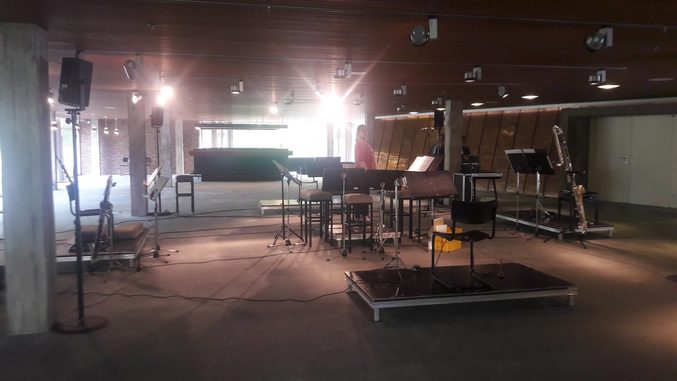 Hakan Ulus is a German composer. He studied composition with Ernst Helmuth Flammer, Adriana Hölszky, Claus-Steffen Mahnkopf and Tristan Murail at the Mozarteum University Salzburg (B.A. 2013, M.A. 2015), at the HMT Leipzig (Erasmus) and contemporary music at the HfMDK Frankfurt (International Ensemble Modern Academy, M.M. 2016). In addition, he studied musicology at the University Mozarteum Salzburg. He holds a PhD in composition from the University of Huddersfield (supervisors: Aaron Cassidy and Liza Lim). Since October 2021, he is a professor of composition and music theory at the Gustav Mahler Private University Klagenfurt, Austria.
He attended various masterclasses with composers such as Brian Ferneyhough, Chaya Czernowin, Dieter Schnebel, Steven Kazuo Takasugi, Ming Tsao, Peter Ablinger, Dieter Mack and Pierluigi Billone and participated in several courses, e.g. Next Generation Program of the Donaueschinger Musiktage 2011-2015, Darmstadt International Summer Courses for New Music 2012, 2016, Harvard Summer Composition Institute Residency 2014, DRK International Young Composers Meeting Singapore 2015, ManiFeste Academy 2017 and Kalv Academy Sweden 2018.
Ulus won several stipends (e.g. composition competition of AuditivVokal Dresden 2019, Artist-in-Residence in the Thomas Bernhard House in Ottnang 2019, Berlin-stipend 2017/18 of the Academy of Arts Berlin, Artist-in-Residence Istanbul 2017 of the Art-Foundation NRW, International Ensemble Modern Academy 2015/16, Harvard Composition Institute Residency 2014, DRK International Composers Residency Singapore 2015, I-Park Foundation Residency 2015, Turkish Cultural Foundation 2014, Arbeitsstipendium Salzburg 2014, EMAS 2014), prizes (e.g. impuls competition 2017) and got commissions (e.g. Klangforum Wien impuls 2017, AuditivVokal Dresden 2019, Ensemble Francaix of the ANAM 2017, IEMA 2016, City of Munich 2014, Ensemblia Festival 2013).
His works are performed by renowned ensembles such as Ensemble Recherche, Ensemble intercontemporain, Ensemble SurPlus, Klangforum Wien, ELISON Ensemble, Ensemble Aventure, Talea Ensemble, Hezarfen Ensemble, IEMA-Ensemble, Trio Sostenuto, Ensemble Francaix and Ensemble mise-en at international festivals of contemporary music (e.g. Salzburg Biennale, ManiFeste Academy, Klangspuren Schwaz, KlangNetz Dresden, ZKM Karlsruhe, Beethovenfest Bonn, Ensemblia Festival, KunstKulturKirche Frankfurt, Aventure Konzertreihe Freiburg, Harvard University) in various cities: e.g. Berlin, Bonn, Boston, Dresden, Düsseldorf, Frankfurt am Main, Freiburg im Breisgau, Hanover, Heilbronn, Hellerau, Huddersfield, Istanbul, Paris, Kalv, Karlsruhe, Kassel, Kempten, Leipzig, Melbourne, Mönchengladbach, Munich, Nürnberg, New York City, Salzburg, Schwaz, Singapore, Tolstefanz, and Vienna.
Ulus' music was broadcasted on Austrian and German radio stations. Musicological publications in Musik & Ästhetik, MusikTexte, ÖMZ, Rombach Verlag and Wolke Verlag. He gave lectures about his music and about musicological topics e.g. at Harvard University, Salzburg Festival, International Mozarteum Foundation, Basel University, IRCAM Paris, Mimar Sinan University Istanbul, GEMA Berlin, Gesellschaft für Ekmelische Musik, HMT Leipzig, Goethe University Frankfurt, University of Huddersfield, Meetingpoint Music Messiaen Görlitz, National University of Singapore.
Since 2019, his works are published by Edition Gravis Berlin.
Ensembles:
Ensemble Recherche, Ensemble SurPlus, Ensemble intercontemporain, Klangforum Wien, Talea Ensemble, AuditivVokal Dresden, Ensemble mise-en, Hezarfen Ensemble, Ensemble Aventure, IEMA-Ensemble, Norrbotten NEO, Ensemble der internationalen Gesellschaft für ekmelische Musik, Ensemble Platypus, Ensemble Black Pencil, Ensemble Interface, Ensemble Musik & Gegenwart, Trio Sostenuto, Ensemble Francaix
Conductors:
Jiri Rozen, Eduardo Leandro, Pablo Druker, Bernhard Wulff, Max Murray, Ilan Volkov, Orhun Orhon, Petter Sundkvist, Olaf Katzer
Soloists:
Hyeonjun Jo (piano), Neus Estarellas- Calderon (piano), Susanne Kessel (piano), Nicholas Young (piano), Richard Röbel (piano), Yumi Suehiro (piano), Carlos Cordeiro (clarinet), Georg Wettin (clarinet), Hugo Miguel Dores de Queiros (clarinet), Kivanc Findikli (clarinet), Cansu Yalcin (voice), Nicholas Isherwood (voice), Àngel Soria Diaz (saxophone), Joshua Hyde (saxophone)
Cities (Performances):
Berlin, Bonn, Boston, Dresden, Düsseldorf, East Haddam, Frankfurt am Main, Freiburg im Breisgau, Graz, Heilbronn, Huddersfield, Istanbul, Paris, Kalv, Karlsruhe, Kassel, Kempten, Leipzig, Melbourne, Mönchengladbach, Munich, New York, Orleans, Paris, Salzburg, Schwaz, Singapore, Tolstefanz, Weikersheim, Vienna